There's little doubt regarding Aspen's winter bonafides.

Along with neighboring Snowmass, the Roaring Fork Valley stands as one of the world's most popular ski destinations. Four mountains, hundreds of miles of trails, and over 5,000 skiable acres. Add to that the Winter X Games, held annually at Aspen's Buttermilk Mountain since 2002, and you have a genuine winter wonderland.

But Aspen's about more than just pristine powder and apres ski after a day on the slopes. Aspen is a spring and summer destination, as well. When the snows start to retreat, it reveals a stunning landscape of hiking trails.

Let's lace up your boots, grab plenty of water and explore 10 spring hikes you can't miss in Aspen.



Before You Go

When hiking Aspen in the spring, keep in mind that healthy amounts of winter snow remain prominent at higher elevations. Check with the U.S. Forest Service to see which trails are open and those that will be passable later in spring.

Even with snow on the ground, there's plenty to traverse at Aspen's lower elevations. Just remember to dress and gear up appropriately, as temperatures can be unseasonably cold (or warm) throughout the spring. Layering is your friend at this time of year. Remember to take plenty of water — even for short hikes.

Just as the gorgeous natural foliage is springing back to life, so is Aspen's wildlife population. Regardless of which trail you find yourself on, be alert for any animals — bears and mountain lions, in particular — and steer clear of unnecessarily spooking any animals.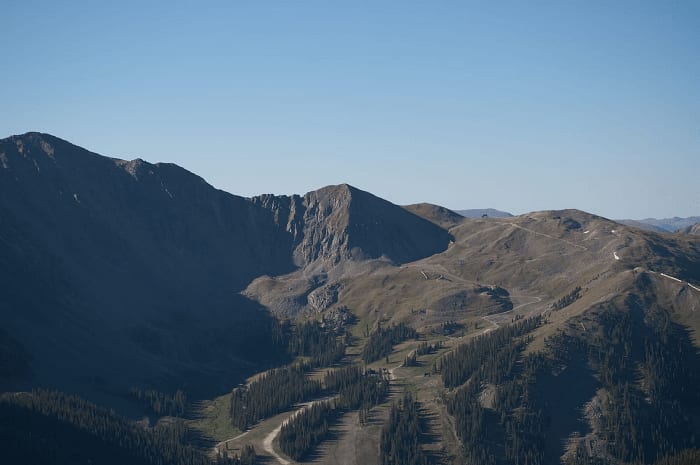 Difficult Creek Trail

Location: 5 miles southeast of Aspen on Highway 82; turn right into Difficult Campground

Although its name suggests otherwise, the 9.8-mile out and back Difficult Creek Trail is a relatively straightforward trek that features plenty of wildflowers and a wooded landscape that follows a creek. Those looking for a moderate challenge will find it along this route.

In addition, Difficult Creek is ideal for camping or those looking for a challenging jog. The best time to visit is late spring. Dogs are permitted but must remain leashed.
Sunnyside Trail

Location: Travel .25 miles on Highway 82, turn right onto Cemetery Lane, trailhead is 1.5 miles ahead on the right

For those itching to get out in White River National River as early as possible, the popular Sunnyside Trail is a scenic 10.8-mile out and back. As the weather gets warmer, traffic on Sunnyside picks up considerably, including mountain bikers.

The trail is accessible as early as April, and dogs are welcome if leashed. With an elevation gain of nearly 2,700 feet, the path can prove tricky and is rated difficult. However, the terrain is versatile and offers the opportunity to hike and camp across multiple days.
Rio Grande Trail

Location: Aspen trailhead is located off Puppy Smith Street, behind the Post Office

One of the most popular and epic trails in the Roaring Fork Valley, this point-to-point trek stretches 42.4 miles from Aspen to Glenwood Springs. The allure of the Rio Grande is its relative ease and impressive scenery — it runs alongside the meandering Roaring Fork River.

The trail is accessible for hiking and biking in March, either off Cemetery Road northwest of Aspen or at the primary trailhead behind Aspen's Post Office. Shorter East and West segments allow for quicker excursions and are fantastic for families. Dogs and horses are welcome on the trail.
Smuggler Mountain Road

Location: Travel .75 miles from East Main to King Street to Park Circle and take a right onto Smugglers Road

At 2.7 miles out and back with an elevation gain of just under 800 feet, the Smuggler Mountain Road trail is the ideal morning or afternoon workout trail. Though hikers persist, you'll find more runners along this route than most other spots in and around Aspen.

The trail itself offers moderate difficulty and is perfect for families with older children looking for an active yet scenic few hours. The observation deck affords fantastic views of downtown Aspen at the midway point of your trip. The trail remains busy year-round — not just in spring or summer.
Hunter Creek Train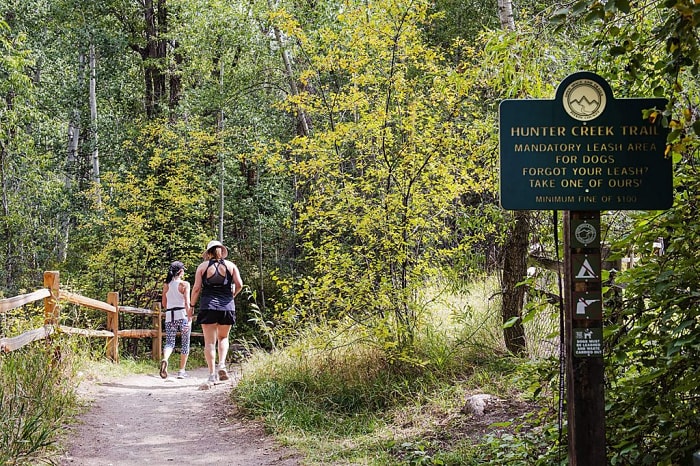 Credit: Aspen Times
Location: Take Red Mountain Road from Aspen for 1 mile, turn right onto Hunter Creek Road; the trailhead is on the left

Another of Aspen's "workout" trails, Hunter Creek, is easily traversable in under two hours. The nearly 2-mile path features pleasant scenery and several areas of rocky terrain — not challenging, but novice hikers should remain alert. Head beyond the trail's first couple of miles for an even more rewarding backpacking adventure.

Hunter Creek Trail is at its best toward the end of spring but is accessible earlier in the season. The trail gets plenty of attention from hikers, runners, and those on two wheels, so expect lots of traffic at peak times. Leashed canines are allowed.
Lost Man Trail

Location: 7 miles east of Aspen on Highway 82; access from Independence Pass trailhead on the left (just beyond mile marker 55); accessible beginning in May

Sweeping views. Stunning mountain lakes. Grand remote wilderness. Venture deep into the Hunter-Fryingpan Wilderness along the Lost Man Trail, and you'll be both challenged and awed by the natural beauty that surrounds you.

The 8.7-mile trail is traversable as a point to point or out and back, depending on your tolerance level. It's recommended to save this option for late spring, though depending on conditions, you gain more solitude the earlier you can visit. Whether you're hiking, camping, or backpacking, you'll want to linger as long as possible.
Ute Trail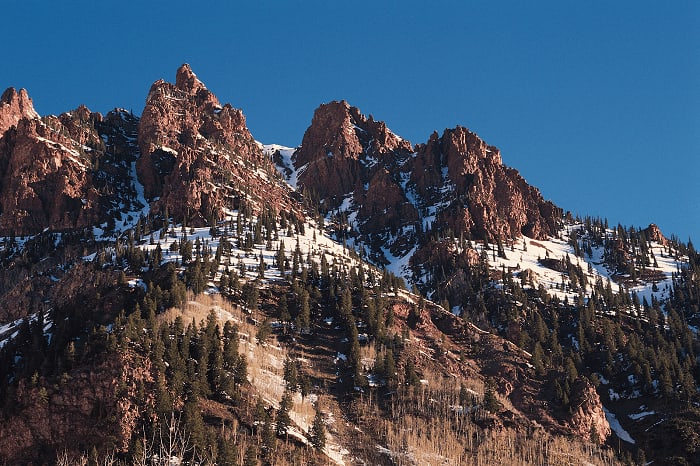 Credit: USA Today
Location: Walk south on Ute Avenue for .5 miles; the trailhead is on the right

One of Aspen's hardest excursions is also one of its most accessible. A few minutes' walk from downtown, the Ute Trail starts simply enough, winding up past one of Aspen's toniest neighborhoods. Once you're clear of development, the real climb begins. With an elevation rise of over 3,000 feet, the 6.2-mile trek demands fitness, endurance, plenty of water, and a resilient pair of legs.

Once at the top of the Ute Rock Overlook, you'll be rewarded with stunning views of Aspen. You can track across a portion of the moderate Ajax Trail to access the Silver Queen Gondola back down into town. The ride is free, and the views are spectacular. Those looking for a shorter high-intensity workout will find it on the trail's bottom third.
American Lake Trail

Location: Turn right onto Castle Creek Road from Highway 82, trailhead is 10 miles on the right

Stretching for 6.5 miles with an elevation gain of more than 2,000 feet, American Lake Trail stakes its claim as one of Aspen's most satisfying and scenic excursions. The trail itself is no pushover and earns every bit of its difficult rating. But the scenery, including crystal clear mountain lakes and a towering Alpine canopy, help ease the strain.

The drive to the trailhead — located a little over 10 miles outside of Aspen along Castle Creek Road — is an excellent precursor for what's to come. The landscape is continuously changing, and the hike itself offers lots of diversity. Many visitors claim the American Lake Trail as a favorite experience during the late spring and into summer. Start early and enjoy the solitude.
Historic Ashcroft Ghost Town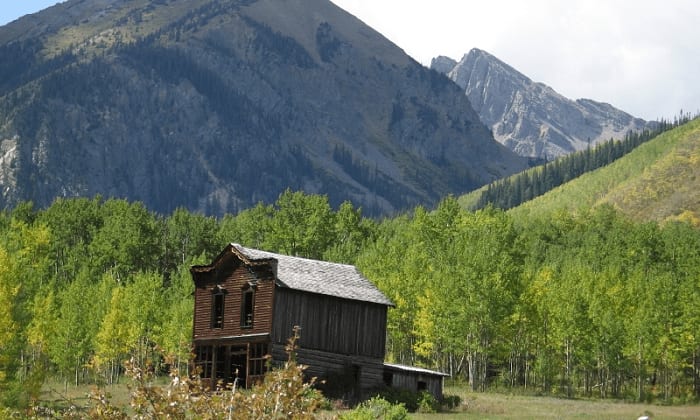 Credit: All Aspen
Location: 1.5 miles south from American Lake trailhead on Castle Creek Road, entrance is on the left

For those seeking a little change of pace and interested in Aspen's and Colorado's historical mining roots, our next hike presents a simple yet fascinating trek into the past: the Historic Ashcroft Ghost Town.

One mile up from the American Lake trailhead on Castle Creek Road, Historic Ashcroft is a straightforward half-mile path that rises only 36 feet but takes you through Ashcroft's old mining town, which is listed on the National Register of Historic Places. There's a five-dollar entrance fee at the height of the season, usually June to September, but it's worth it as a cool side trip for those with time to spare.
Red Butte Trail

Location: From Highway 82, turn left onto Cemetery Road; the trailhead is a mile on the left

Deceptively steep with a nearly 450-foot elevation gain over its short mile-long length, the Red Butte Trail is situated just a couple of miles from downtown Aspen. Another of the area's aerobic trails, Red Butte caters to those looking to supercharge their spring jogging or power walking regimens.

The scenic trail, which ascends along Red Butte Mountain, also appeals to families who prefer to take their time and take in the sights without a need to traverse to the trail's apex, where a challenging finish awaits. Views are indeed plentiful and include Aspen, the Aspen Golf Club, and Pyramid Peak.

Are you interested in buying Aspen luxury real estate as a primary or second residence? Or are you seeking more information on opportunities for Red Mountain homes or have a Snowmass home ready to list? Contact Erik Berg Real Estate today and allow his years of experience and expertise to help you navigate the process.