With spring finally here, it is the perfect time to get outside and explore the great outdoors. Thankfully, there are a plethora of ways to do that in Aspen. Horseback riding is a terrific way to immerse yourself in the pioneering spirit of the area. You can take in scenic views while exploring Colorado from different vantage points. Whether it's your first time riding or you've been riding for years, these equestrian trails offer a memorable experience. Read on to discover eight of the top equestrian trails in Aspen. These are some of the finest trails in the area to explore on horseback.
1. White River National Forest

As the most visited national forest in the nation, White River National Forest attracts millions of visitors on a yearly basis. This stunning forest, spread over an expansive 2.3 million acres, has eight wilderness areas, ten mountain peaks over 14,000 feet, and over 2,500 miles of trail. It is also home to many notable equestrian trails, making for the ideal opportunity to explore the forest. With so many horse riding trails to choose from, you can select the one that matches your skillset and riding experience. From Willow Lake to Maroon Creek, White River National Forest boasts some of the most highly rated horseback riding in the area.
2. Woody Creek and Hunter Creek Trail

Located near Aspen, Woody Creek and Hunter Creek Trail is a 16.7-mile, lightly trafficked point-to-point trail. In addition to hiking and backpacking, horseback riding is permitted, providing you with a beautiful trek through the mountainside. This trail follows alongside Woody Creek the entire way. Rated as moderate, this trail is mostly shaded with some rocky sections. There are also some creek crossings, all of which are easily forded by your horse. During the trail ride, be sure to keep an eye out for the varied types of wildflowers that pop up during the spring!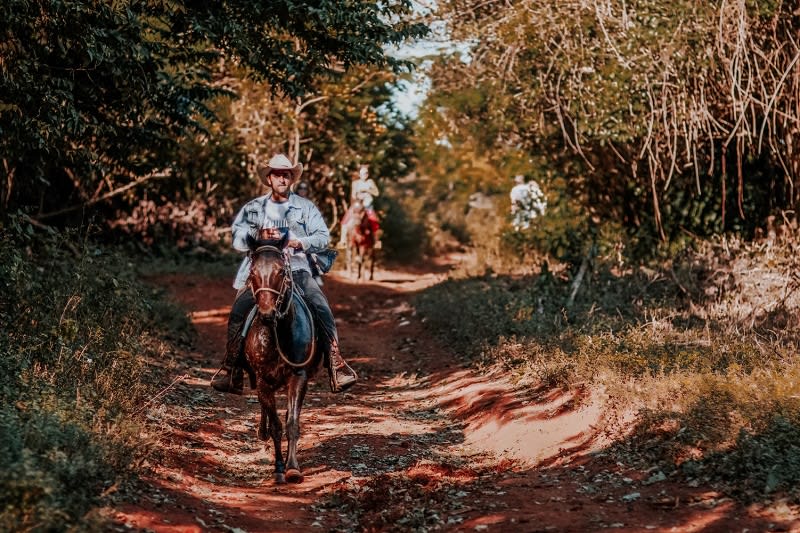 3. Pearl Pass

If you're looking for something a bit more demanding, check out Pearl Pass! Pearl Pass, rated as hard, is in the White River National Forest. The long, winding trail, accessible by horseback, offers an unbeatable mixture of landscapes. You will see everything from rolling rills to challenging rock ledges. There are high elevation sections of the trail that follow the border of the Maroon Bells-Snowmass Wilderness. Pearl Pass comprises a 22.7-mile, lightly trafficked point-to-point trail near Aspen. Undoubtedly, this trail is not for the faint of heart, but it will show you some of the most strikingly gorgeous parts of Colorado. This trail is off the beaten track, so it's a fantastic option for those who are feeling adventurous! It's also a great spot to go horseback riding with friends or family. Pearl Pass is best between May and October. In April, you'll find luscious trees and colorful wildflowers. In the fall, you can marvel at the leaves changing colors on the trees. These breathtaking views will provide you with endless photo opportunities!
4. Castle Peak and Conundrum Peak

Castle Peak and Conundrum Peak are two of the most beautiful ranges in the state, both towering over 14,000 feet. Lucky for you, they are in close proximity to Aspen, allowing you to see this majestic range up close and personal. This trail is reserved for only the most skilled hikers and horseback riders. The trail is best used from March until November, giving you loads of time to check out Castle Peak and Conundrum Peak's incredible views and budding wildflowers.

5. Lost Man Reservoir Trail

Don't have time for a long trail ride? If you're short on time or just want to start small, then head on over to Lost Man Reservoir Trail. This short and sweet hike stretches over 1.3 miles and is moderately trafficked. The trail provides easy access to an alpine wonderland of meadows and lakes. Scenic, accommodating for all skill levels, and relaxing are just a few words to describe this hike. The trail begins with a moderate ascent along the Roaring Fork River and then passes lovely Independence Lake before finally topping out at the panoramic Lost Man Pass. After the pass, the trail drops to the picturesque Lost Man Lake before gracefully descending into stunning meadows. The reservoir at the end of the lake is the ideal spot to let your horse rest or simply soak up the spring sunshine. You can even pack a picnic along for the trail ride and enjoy a quiet meal by the lake. Lost Man Reservoir Trail is most popular between May until August.
6. Maroon Creek Trail

Two towering snowcapped mountaintops, Maroon Peak and North Maroon Peak of the Elk Mountains, anchor a blissful picture-postcard scene. These 14,000-foot peaks ("fourteeners"), referred to as the Maroon Bells, are some of the most photographed places in all of Colorado. With breathtaking views, it's not hard to understand why. If you want to experience this majestic mountainside up close, then we've got just the trail for you: Maroon Creek Trail. Just 10 miles west of Aspen, Maroon Creek Trail is one of the many equestrian trails within White River National Forest. It stretches over 6.9 miles and is a moderately trafficked out-and-back trail. Hiking, backpacking, and horseback riding are popular activities here. Take your horses on a trail that has it all: wildflowers, forests, and views. Plus, the lake makes this trail even more serene and pretty. The ride begins on the standard Rocky Mountain hills and moves through groves of aspens, passes through an old avalanche site, and then proceeds through colorful meadows. The meadows are charming in the springtime when there are multihued assortments of charming wildflowers. Available through Maroon Bells Aspen, this two-hour ride is offered daily at 9 a.m., 11:30 a.m., and 2 p.m. During the spring, hypnotizing flower fields are the norm. During the fall, the foliage is transformed, and the aspen trees take on a shimmery gold hue. Take a ride along Maroon Creek and experience the exhilarating scenery.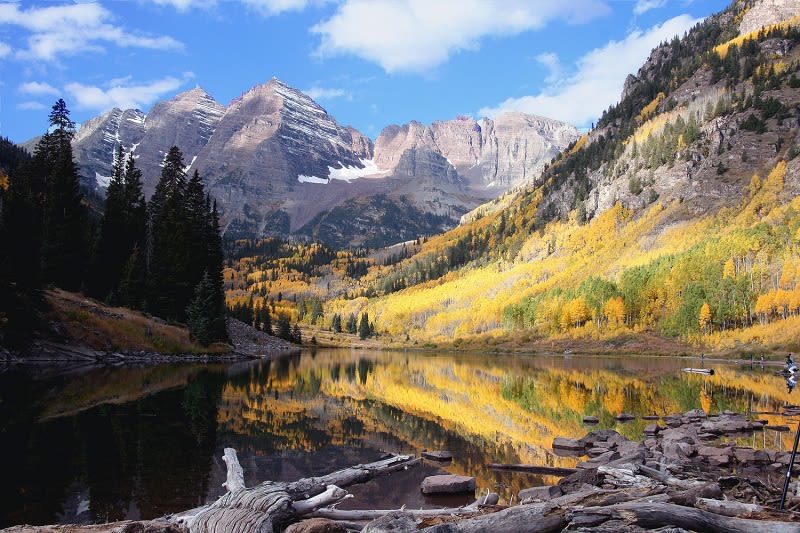 7. Crater Lake Trail

There's nothing more rejuvenating than spending an afternoon in nature, and you can experience just that at Crater Lake Trail! This trail, nestled in the Maroon Bells-Snowmass Wilderness near Aspen, is a 3.8-mile out-and-back trail. Rated a moderate, this trail has a wide range of activity options, including horseback riding. The trail is best used from June until October. Crater Lake Trail climbs relatively steeply for a mile before crossing a narrow strip of land between the two main lakes. You'll be rewarded with panoramic views of the lake. Whether you are horseback riding at sunset or having an afternoon hike, you'll love this gem of a trail.
8. Willow Lake Trail

Willow Lake is situated 6.2 miles from Maroon Lake in the Maroon Bells-Snowmass Wilderness. It is nestled just above the treeline in a magnificent alpine basin east of Willow Pass. Soak up the sunshine and take in the views at Willow Lake Trail. The 6.5-mile trail is used for running, hiking, and horseback riding. This rocky trail travels over Willow Pass. The trail is not marked explicitly to Willow Lake, so you will have to navigate along other marked trails to find your way. The lake is incredible, and the trail ride itself is equally inspiring. It carefully follows the Maroon-Snowmass Trail with its iconic backdrops to the meadows under Buckskin Pass. This is where the Willow Lake Trail splits off to Willow Pass and begins its airy descent to the lake. Take in the fabulous views as you enjoy this relaxing ride!

Aspen is one of the most sought-after places to live in Colorado, given its natural beauty. If you are ready to explore homes for sale in Aspen, contact Erik Berg today. As one of the top luxury real estate agents in the area, Erik is an expert in Aspen luxury real estate and the home buying process. His expertise and dedication to his clients will help guide you through the home buying process on your search for the dream home.