From cozy, small mountain towns to bustling tourist destinations, Colorado has something in store for everyone. There are plenty of advantages to living in Colorado, including outdoor activities, healthy food options, and a health-focused culture. Plus, it is also considered one of the healthiest states in the country.

Whether you're planning to permanently move to Colorado or simply looking for a vacation home, deciding where to buy real estate can be difficult. But we're here to help walk you through some of the most popular areas in Aspen, from Red Mountain to Snowmass Village. Read on to learn which Aspen neighborhood is right for you and your family!
1. Aspen

With a population of roughly 7,500, Aspen is a picturesque mountain town with a rich history, a plethora of recreational activities, and access to nature. This charming town nestled high in the Rocky Mountains at the head of the Roaring Fork Valley was originally founded in 1880 and served as a Victorian mining town. Aspen's population consists of both full-time and seasonal residents. The real estate styles include single-family homes, condos, and ranchettes, which are always in high demand.

There's a lot to love about Aspen, where you are blessed with an endless number of outdoor recreational activities. Whether you enjoy dirt biking, hiking, gold medal fishing, white water rafting, or skiing, you can find it all here.

In addition to the myriad outdoor activities, the city and surrounding valley also have plenty in store. Festivals, theaters, shopping, and community events are common here. The Food & Wine Classic, which takes place in September, is a popular event that brings the community together over delicious food, top-notch wine, and a great time for all.

Although Aspen is one of the most popular destination resorts, it is also a western town where you can find ranches, hunting, horseback riding, and camping. Whether you spend your weekend camping or skiing, you'll love everything that awaits you in Aspen.
2. Red Mountain

Situated just north of downtown Aspen, Red Mountain is known for its luxury homes with unbeatable views. The properties overlook the city and stretch out along the Elk Mountain Range from Independence Pass to Mount Sopris and beyond. Red Mountain is also considered the most elite and exclusive residential community in all of Aspen.

The majority of original homes nestled on Red Mountain have since been replaced by luxurious, custom-built mansions. These gorgeous mansions vary in both architectural style and innovative custom features. Residents who are lucky enough to live here have quick and easy access to Hunter Creek and Smuggler trails. These trails are popular for mountain biking, hiking, or simply soaking up the sunshine.
3. Starwood

Situated just three miles north of Aspen, Starwood is one of the area's most sought-after neighborhoods. It is home to a colorful assortment of individuals, including artists, farmers, and outdoor enthusiasts. In addition to its stunning beauty, one of the main draws of Starwood is its convenient location. Living here puts you in close proximity to downtown Aspen, yet far enough away from the action and noise. The area encompasses nearly 1,000 acres of beautiful ranchland, with an idyllic community and plenty of trails for exploring.
4. Woody Creek

Just a bit away from Aspen is Woody Creek, a picturesque small mountain town. It is also just minutes away from Snowmass Village, providing residents with ample options for when it comes to spending a day at the slopes.

This mountain hideaway is characterized by luscious rolling green hills, ranch land, and luxurious properties overlooking the four ski resorts. Other homes are nestled along the Roaring Fork River, which is famous for its top-notch fly fishing.

Woody Creek attracts residents from all backgrounds, ranging from outdoor enthusiasts to artists to ranchers. With a year-round population of roughly 300 people, you won't find luxury shopping or upscale restaurants in this small town. But you will grow to appreciate the peace and quiet that comes from living here.

Plus, the strong sense of community here is unmatched. The Woody Creek Community Center holds regular events, such as French classes, art exhibits, and author readings. Meanwhile, the Woody Creek Tavern is the perfect spot to catch up with friends or rejuvenate after a day on the trails.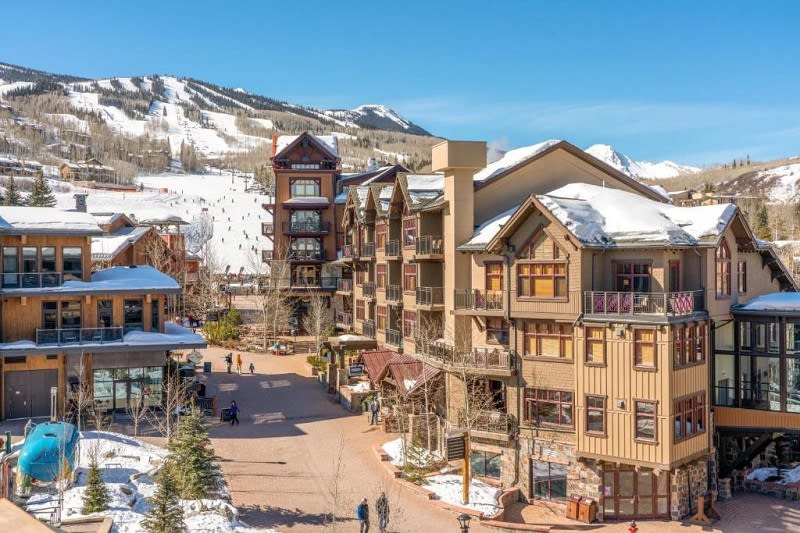 Credit: Booking.com
5. Snowmass Village

Snowmass Village, which was originally established in 1967, has transformed into a world-class resort. The area is also defined by its luxury houses, condominium developments, and excellent hotels, many of which have ski-in/ski-out access. In fact, there are residential subdivisions along the two roads leading to Snowmass which feature spacious estates on large lawns.

If skiing isn't your thing, don't worry! There's still plenty for you to see and do here. Here you can take advantage of on-mountain summer activities, the Anderson Arts Ranch, and the Snowmass Golf Course. There's also an array of special events that attract thousands of visitors to the area.

It's these reasons — and more — that have helped Snowmass Village become a world-renowned ski resort in its own right.

If you're ready to make the move to colorful Colorado, contact Erik Berg today. Erik is an expert in Colorado real estate and serves a wide range of neighborhoods. Whether you're interested in exploring homes for sale in Aspen or Red Mountain luxury homes, Erik is ready to help you find your dream home. There's never been a better time to move to Colorado, where adventure, the outdoors, and tight-knit communities await you.
6. Old Snowmass

Old Snowmass, located between Aspen and Basalt, could hardly be more picture-perfect. Bursting with beauty, this area is characterized by riverfront farms, hilly terrain, inspiring mountain views, and clear creeks. The history of this town is deeply connected with farming and ranching, which still partially defines the area to this day. This storied town is an unincorporated community with its own post office and is serviced by the Aspen School District.

Off the beaten track, Old Snowmass is the perfect option for those who desire a more serene lifestyle and lifestyle. Living here puts you squarely in nature, where endless adventures await you. Horseback riding, hiking, and four-wheeling are all popular activities here. The beauty of the wildflowers, creeks, and mountains will amaze you. Old Snowmass is not only known for its incredible beauty but also its commitment to sustainability and going green.
7. Basalt

Nestled in the Roaring Fork Valley, Basalt is situated at the confluence of two gold medal trout streams: the Frying Pan and the Roaring Fork Rivers. This mountain town was formed in the late 1880s when the two small communities of Frying Pan Junction and Aspen Junction joined together on land. The construction of the railroad began in 1885, quickly sparking more growth in the area as more people and supplies came to the area.

Although it was founded over 150 years ago, the landscape and downtown area still reflect the olden days. Since then, the town has grown to become home to just under 4,000 residents and embodies the quintessential small-town life. Individuals from all walks of life are drawn to the peaceful ambiance, which makes for a much-needed escape from the hustle and bustle of city life. A large number of young working professionals also reside here.

A stroll through the historic downtown will reveal eateries, coffee shops, and boutiques. The town is also known for its creative arts culture. Life in Basalt puts you just 20 miles away from Aspen and world-class ski slopes.
8. Carbondale

Carbondale isn't just another small Colorado town. It is considered one of the best places in Colorado to live, work, and play. This town has a population of just under 7,000, including year-round locals and seasonal residents.

The land in the area was first opened to homesteaders in 1888, which is the same year that Carbondale was founded. As early pioneers flocked to the area, it quickly gained a reputation for its farming and ranching opportunities. If you want to delve deeper into the rich history of Carbondale, you can do so at the Carbondale Historical Society. Since its humble beginnings, this lovely Colorado town has been home to a mix of ranchers, artists, organic farmers, and retired business owners.

Life in Carbondale is far from boring! The charming downtown area is lined with upscale restaurants, a premier movie theater, several arts organizations, coffee shops, yoga studios, craft breweries, and much more. Despite recent developments, Carbondale has retained its much sought-after friendly and welcoming ambiance. With a lower altitude, close access to nature, and a strong sense of community, Carbondale is the perfect place to call home.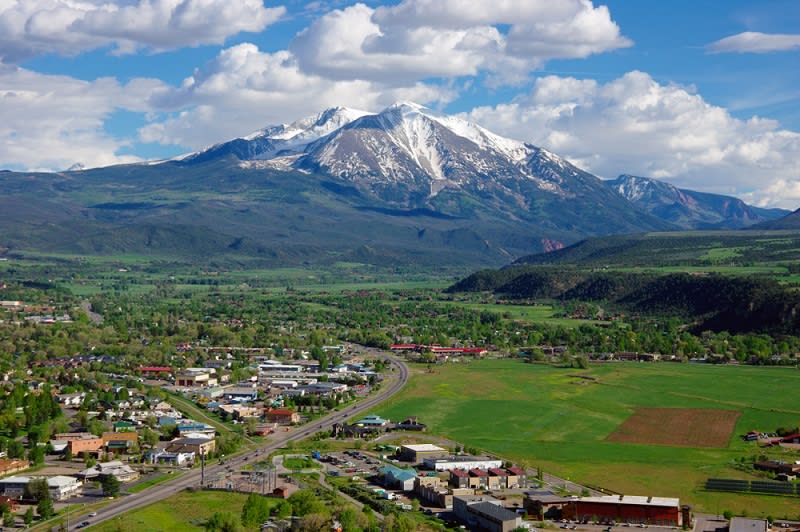 Credit: AFAR
* Header Image: Live Work Learn Play